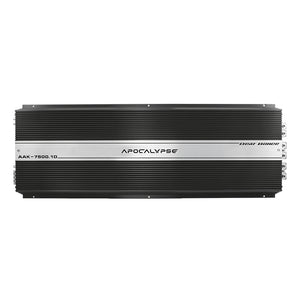 USED | Apocalypse AAK-7500.1D
Regular price $899.90 + Free Shipping to 48 States
Lease for as low as $/week
Learn More
The product is Used 
Used means: the product was used and still in good working condition.
It may have some scratches after previous installation and signs of wear.
The product is working, tested by our technician and still under the limited warranty for a 3 month.
Warranty doesn't cover:
Damage due to misuse of product
Damage due to using the product outside of the recommended specifications. 
Damage due to negligence or abuse 
Improper installation (including professional installation)
Damage due to clipping, overpowering and/or distortion (improper tuning)
Specifications
| | |
| --- | --- |
| Model | AAK-7500.1D |
| Class | D |
| Number of the channels | 1 |
| Frequency response | 15 - 270 Hz |
| 1 Ohm RMS Power (14.4 V) | 7500 W |
| 2 Ohm RMS Power (14.4 V) | 4800 W |
| 4 Ohm RMS Power (14.4 V) | 2600 W |
| Minimum permissible load on the channel | 1 Ohm |
| Minimum permissible load in a bridge connection | 2 Ohm |
| Input SPL | 0.2 - 6 V |
| Low pass filter | 35 - 250 Hz |
| Crossover | 24 dB/Oct |
| Subsonic filter | 10 - 50 Hz |
| Input terminal | 0 Ga x 3 |
| Output terminal | 8 Ga |
| Damping factor | ≥ 300 |
| Fuse rating | 750 A |
| Working voltage | 9 - 15 V |
| Phase regulation | 0 - 180° |
| Signal-to-noise ratio | ≥ 95 dB |
| Size (W×L×H) | 11.81 × 32.28 × 2.99 inch |
| Gross weight | 51.81 lb (23.50 kg) |